Scientific name: Piper nigrum L.
Pepper experts rate our red pepper exceptional for its size
and "fruity", ginger-bread and date aromas.
Fully mature red peppercorns.
We are producer and exporter of spices and ingredients of Laos origin.
We have developed a range of high-quality organic and conventional products for delicatessen and food industry wholesalers.

In a few words and pictures I would like to tell you about the adventure of the Boloven pepper. Laos, once a kingdom, was also called the country of "a million elephants and a white umbrella". It all started with a handful of pepper seeds received from a friend. I had the choice between putting them in a pepper mill or trying to germinate them. The second riskier option also seemed more interesting to me because this pepper had a very nice aroma. The Bolovens plateau rises to 1000m and its well-watered volcanic soil is suitable for coffee and tea plantations.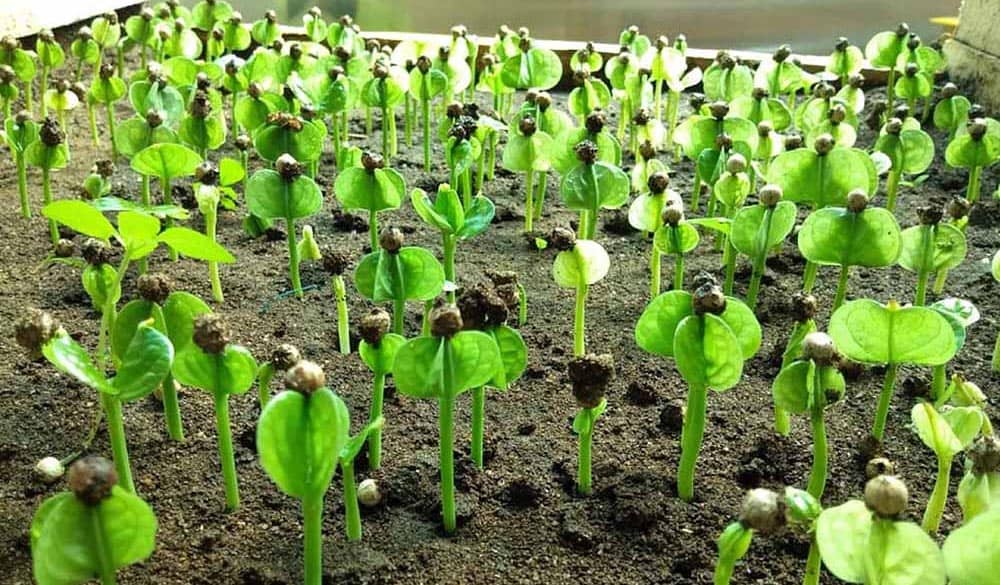 Pepper gives us lessons in patience!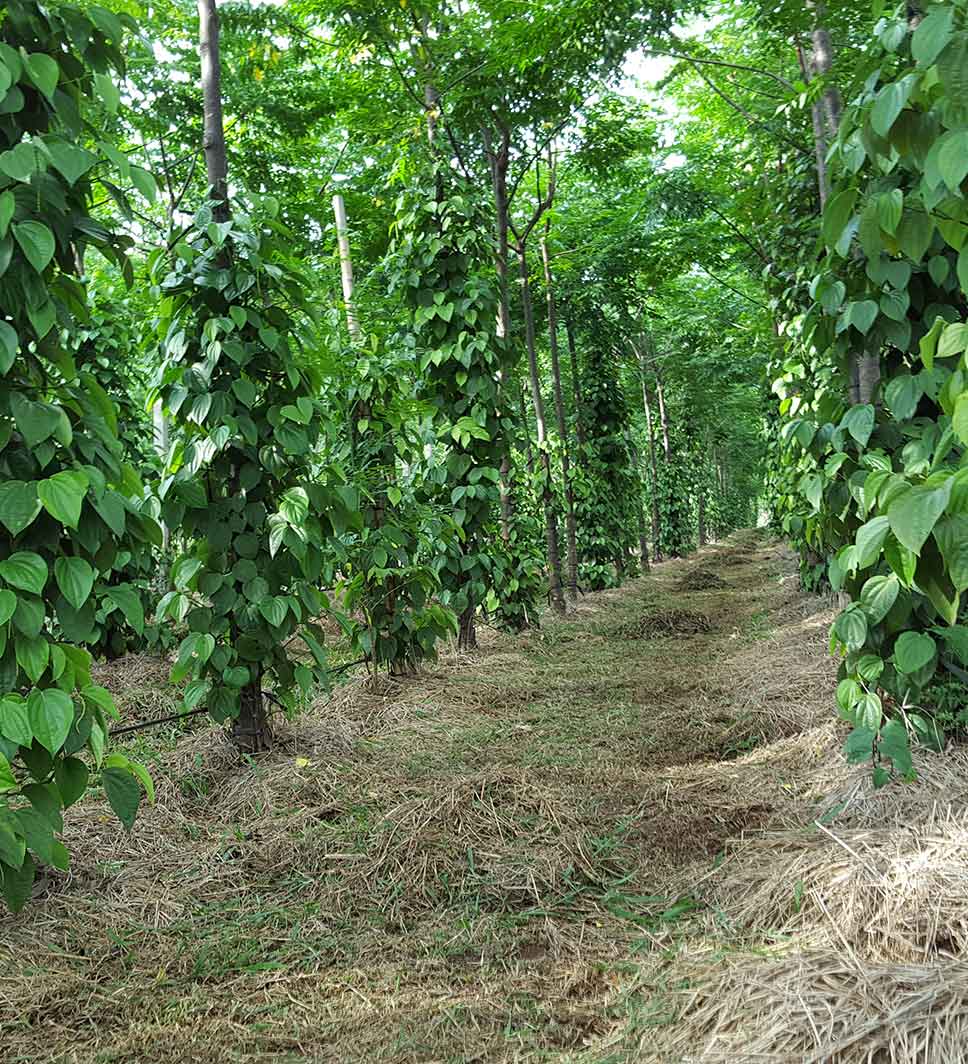 It took 3 months of waiting and care to see the first seeds germinate and come out like little soldiers with a funny helmet on their heads. This small seed will develop a liana which will climb along the trees and give us seeds and be able to multiply endlessly. A whole forest can thus fit in the palm of a hand. The Bolaven plateau is made up of magnificent waterfalls including the well-known Tad Fan one.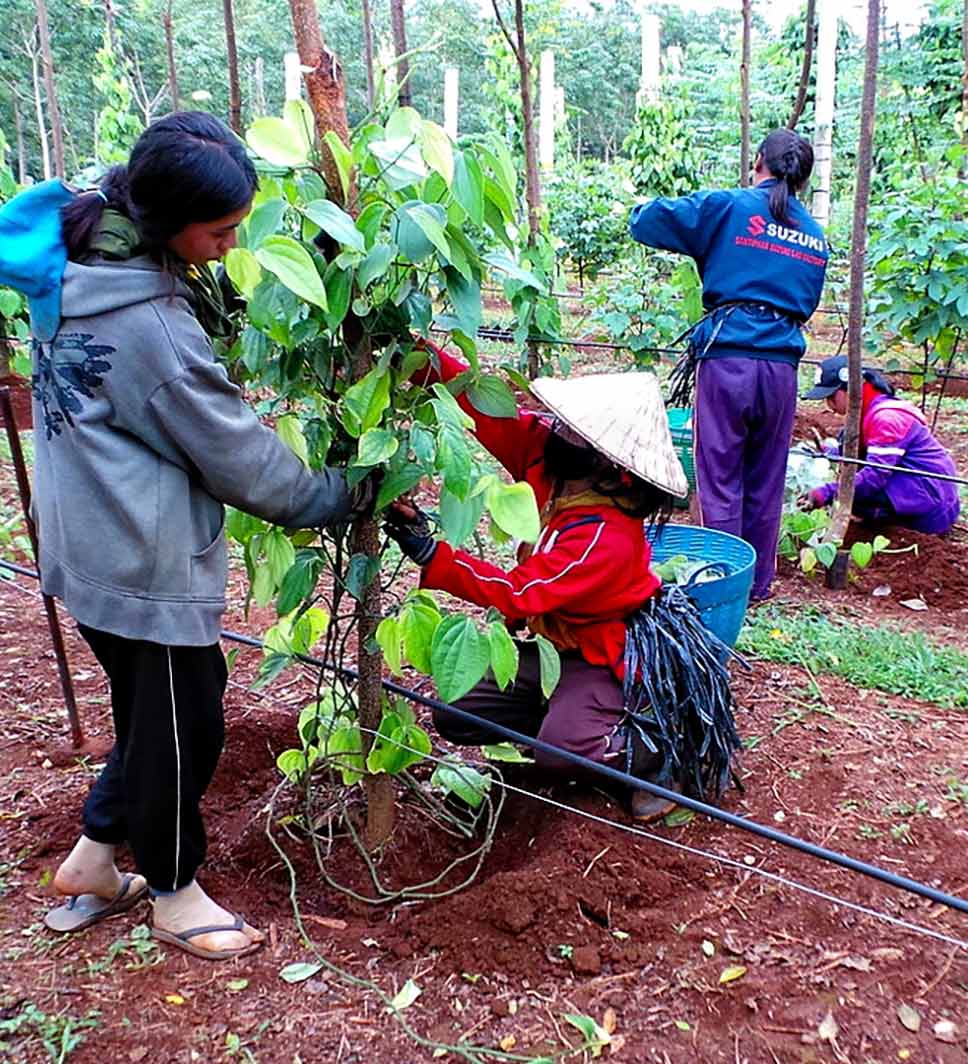 Young pepper plants need a solid stake, hard wood or concrete, but very quickly we opted for a more natural and less expensive solution by planting stake trees (Melia azedarach). Thus was born a veritable forest of pepper trees. But it will again require patience and a lot of care, because it will not be before 3 years that we will be able to see the first results. Not far from our farm, the Tad Lo waterfalls are worth a detour.
Coming from an exceptional terroir on the Bolovens plateau at an altitude of 650 meters in southern Laos, our red pepper stands out olfactorily and tastefully with its exceptional aromatic elegance.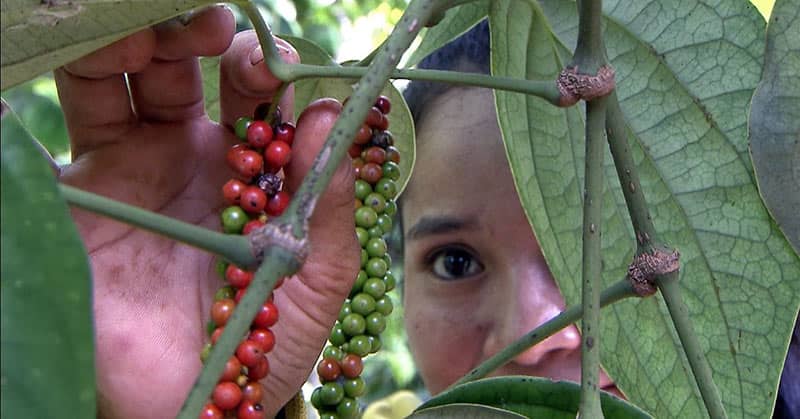 Bolaven red pepper
"Bolaven red pepper is one of the best piper nigrum in the world."
meilleurduchef.com
Bolaven red pepper
"One of the best red peppers ever tasted: power, roundness, fruitiness and a very nice length in the mouth."
desepicesamaguise.com
bolaven red pepper
"This grand cru of red pepper, grown according to the traditions of southern Laos, draws its aromatic complexity from the volcanic soil of the Bolovens plateau."
lesthesdebernie.com
We work for the Highest Products Quality
As a producer of organic, conventionally farmed, and Fairtrade Spices in Laos, we have developed strict management and quality control procedures specific to each raw material, in order to ensure the safety of our finished products and satisfy international standards.
The red peppercorns are green peppercorns that have been left longer on the vine. They retain their color while drying, and they are the sweetest and most expensive variety do to longer maturity and selected harvesting. Pepper experts rate our red pepper exceptional for its size and "fruity", ginger-bread and date aromas.
Whole Bolaven White Pepper
White Pepper is processed black or red pepper. By removing the outer skin, the pepper becomes milder and blends bet- ter in sauces.
Whole Bolaven Black Pepper
When more mature green peppercorns are allowed to dry naturally, they will turn black. This is the most common pepper.
Young peppercorns are harvested and processed before maturity to offer a
variety of mild and fresh flavor combinations.
• Our newest salted green peppercorns will surprise you with a fresh, juicy mix of heat and salt. Enjoy them as snack or to season your favorite dish.
Whole Bolaven Green Peppercorn in Oil
Our long peppercorn grapes allow elite chefs to make their unique gourmet style presentation with (16-18cm long peppercorn branches)
memorable flavor.
Whole Bolaven Green Pepper in brine or oil
• Our wholesome brine flavor allows us to maintain the fresh and natural flavor of the green peppercorns. Excellent on pepper steak, fish, chicken or scrambled eggs.
• Our green peppercorn in oil offers both, fresh flavor as well as a unique pepper flavored oil great on pasta or salads.
We offer a green peppercorn paste in mustard form.
To use as a unique mustard or brushed on barbecues. A great combination in mayonnaise and sauces.
Mack Khen (Zanthoxylum rhetsa)
Mack Khen is collected from trees in the wild and brings a unique lemony and fresh fragrance to your dishes.
© 2023 MAI SAVANH LAO. All Rights Reserved